Betcha didn't know that the first building in the USA, in the entire country, specifically built to commemorate the sacrifice of soldiers from World War I, was built in my home town of Lehi, Utah. Betcha didn't know that. The building eventually housed the Lehi City offices and the city library. Memorial Day always reminds me of the Lehi "Memorial Building" and the days when I was a kid and my dad was a city councilman. I would go with him to his weekly meeting, stroll the atrium of that mission-style building and look at the faces of all those soldiers and then cut into the library and read until my dad was done.
Lehi Memorial Building, now the award-winning
John Hutchings Museum of Natural History
I grew up in the greatest American town. You can put a gallon of gas in your car and go in either direction to Salt Lake or Provo, by why would you?
A group of Mormon pioneers settled the area in 1850. After several names, it was incorporated by the Utah legislature in 1852 as "Lehi City," named after of one of the Book of Mormon prophets. Lehi was a prophet that fled with his family out of Jerusalem to escape oppression. They did not know what the Lord had in store for them, but they went with faith. It's fitting that a pioneer town be named after such a man. In fact, the Lehi High School mascot is "the Pioneer."
It was Utah's sixth city. When I was born it had just over 5,000 people. My family is considered "old Lehi people." There was one Mormon Stake (groups of wards) and when they made my dad bishop of the Ninth Ward people were shocked that there were enough Mormons to split them into nine groups. Now, according to the 2010 census, there are 47,000 citizens of Lehi. There are two other surrounding towns, Eagle Mountain (famous citizens - Andy and Sarah Shelton) and Saratoga Springs (famous citizens - Steve and Juanelle Shelton). Those two bumper towns have taken the population of Northern Utah Valley to nearly 80,000. I hardly recognize the place when I'm home...it disturbs me... I grew up in a town with NO stop lights and now it takes 20 minutes to cross main street.
Lehi City's Main Street. Notice the building on the far left...
Lehi Bakery. I spent a lot of babysitting money on fritters
and alligator jaws here.
I still remember the day my sister came over to announce that she managed to avoid getting the extended "766" telephone prefix for their new house. Whew! That was a close call. She insisted that they have the old "768." Don't mess with the 768'ers. This is their town. When you can trace your heritage back to the original Lehi Pioneers, you just shouldn't settle for 766.
There are a few things that still remain sacred in Lehi, and that's why, no matter where I have lived in the world, I start pining for Lehi around Memorial Day.
The first thing is, of course, my parents still live there. Their parents lived there. They were BORN there. My Grandpa Smith was a rodeo man. Dad's a very well-respected citizen in town and has taken his turn in politics and church leadership. He has a backyard and garden the size of two building lots and he still gets his planting potatoes from Broadbent's store which was established in 1866. If he isn't home working his garden, he's probably down at Kohler's, the town grocery store, talking to someone in the meat aisle. There are many citizens of Lehi still shopping there, desperate to keep it open despite the massive Macey's down the street.
I think Lehi's famous for a few other things. Lehi's often known as the sweetest city in the state, because right after the pioneers settled the town, they erected a sugar beet factory with a grant from the Mormon church. This 350-ton capacity plant was the first sugar beet factory in the United States built with American machinery.
Sewing sugar sacks together - 1920.
When Hawaii's cheaper production of cane sugar pushed the sugar beet industry down, the Lehians, bounced back with wheat. In 1906, the Lehi Roller Mills produced it's first flour. They still mill 100,000 pounds of flour a day. They supply all the flour for the western Kentucky Fried Chicken restaurants, but the Roller Mills put Lehi on the map after Kevin Bacon took up employment there in 1984 in the movie
Footloose
. Yes...that's right...the entire town of Lehi is just one degree from Kevin Bacon. For an entire year, they had to employ someone full-time to answer phone calls about the movie. People still drive into town off I-15 to have their picture taken here...the thing is, it sure doesn't look like this anymore. That grassy field has been replaced by a gas station, a strip mall and a grocery store. Thanks Kevin.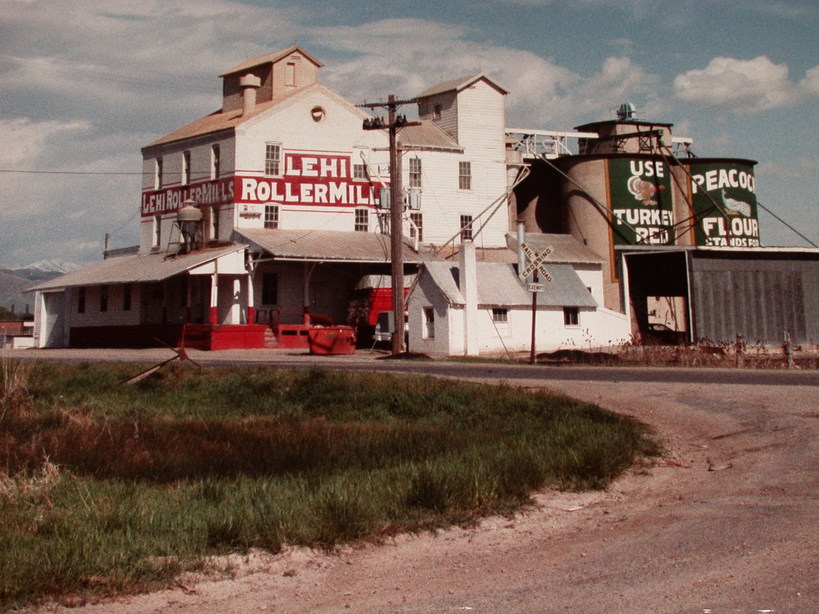 The famous Lehi Roller Mills.
June always reminds me of Lehi because of The Roundup. There are three sacred days toward the end of June when the PRCA brings their rodeo to town and people park for a mile down the neighborhood sidewalks to watch the world-famous rodeo. We always walked over. Just follow the smell of burgers frying and the sound of the announcer. I can smell that burger still to this day. I can hear the train...can't have a rodeo without the train rolling through. Famous cowboys from all over America are drawn to the Lehi Roundup. My favorite clown was always Lecile Harris. I miss the rodeo!
The signature opening of the roundup is a horse parade through town. Everyone with horses or wagons enters the parade and there are clowns with wheel barrows every tenth entry to clean up after the mess. That parade passes right by my parent's house and my dad's two sisters and their families gather there for burgers and watermelon before the event. I miss that so much. OH! I love Lehi, Utah! It's a great place to grow up.
The majestic Mount Timpanogos and Utah Lake, which we often fished as kids.
I also miss Wines Park, penny candy at the drugstore, Lehi Bridal, The infamous apple fritters at the Lehi Bakery that were as big as your head, and of course, there were several teachers that made an impact on me and because of that, I am careful to remember that I too, will make an impact, good or bad. My father taught me to have passion for it, my teachers showed me the power of it.
In Fifth Grade, I was lucky enough to get Mr. Barnes as a teacher. He taught me how to sing. He taught me how to square dance. He laid out my official introduction to the arts. I'm indebted to this day. I also know (and still remember) every word to about 15 John Denver songs thanks to him (and Mr. Adams.) I don't remember another thing about fifth grade...but I remember how happy I felt that entire year.
When I was a little bitty boy, just up off the floor
We used to go down to Grandma's house, every month's end or so
We had chicken pie and country ham and homemade butter on the bread
But the best darn thing about Grandma's house was the great big feather bed....
How high was it? NINE feet high.
I attended Lehi High in the 80's and after spending an hour a day trying to look like Farrah Faucett, I trudged over to the school, just three blocks down the street and spent most of the day in the drama classroom. The patriarch of drama at the time was the beloved Glen Smith. We called him "G." He is a living legend. I don't have to even say why... no one would understand unless you had a class from him, or got to be in one of his shows. He was a safe haven, a port, an oasis. He obviously made an impact on me.
I played "Yente the Matchmaker" in
Fiddler on the Roof
my freshman year at Lehi. Carl Dastrup played Tevye and people still talk about Carl's performance. That was November of 1979. By January of 1980 I was a full-fledged drama queen. I loved Lehi High School because of G (and Jean Partridge who allegedly drank whiskey, carried a gun and did, in fact, introduce me to Victor Hugo's
Les Miserables
). I once told G that I would teach there after he was retired. I was right.
In 1999, my principal was being moved to Lehi High and he took me with him. It was his prerogative to move teachers around to advance the school in his own way. Sheldon knew a school was only as strong as it's arts program because those kids like to come to school. Those kids usually have good grades = good test scores. Lehi High was on the verge of a growth explosion. Sheldon looked down those tracks and saw it coming. He needed a teacher in the arts department that could ride that train and turn a big musical into the town badge of honor. He had watched that happen at Mt. Ridge and so I was transferred to my own alma mater. Weird.
I walked into my old classroom on the very first day with a broom and a mop. It became my life theme. I truly admire the artist that was there before me. She just didn't see the incoming train. She was also a gifted visual artist and could expand that program too. So she was moved to visual art. Drama was small, about 20 kids total. Many were mad at the teacher change and had dropped out...right after they left their u.r.i.n.e. in the floor heating vents as a sign of their disgust. That was a smelly October. I forged on.
My brother Brad, who had been a successful theatre actor and technician in junior high, was spending his time at Lehi on the soccer team. It killed me. He was a trained Shakespearean actor. So I asked the soccer coach for his schedule, rehearsed the first musical around that schedule in order to use the soccer team as the "Washington Senators" in
Damn Yankees
. I worked the halls like a pimp: "Hey, you wanna be in the musical? It'll be fun...the soccer team's doing it." Pretty soon I had about 40 great kids and I could work with that. The kids that were more like me, were coming into the program. They were worker bees and loved the challenge.
Side note: look at the drama teacher and you will see the kinds of kids that are in their program. You have an eccentric right winger that wants to produce obscure musicals for the sake of their art? Those kids are tortured artists. That teacher is constantly in the principals office. You have a motherly, loving teacher that doesn't like to raise their voice and rushes to the aid of a sick student? You have chaos, sudden epidemics. You have a straight male testosterone-filled teacher? You'll have no problem finding a leading man. Drama becomes cool to do. You have an unfulfilled actor that took the job because he couldn't get acting gigs? You have a lot of bitterness and envy. The kids I attract are book nerds that rule the school...the kids Andy attracts are clowns that need an audience. Just the right combination of "I must do my homework at rehearsal." They help each other. It works for us.
The nerds flocked in...sorry nerds but you know who you are and I love you for it. I realized that there was a pattern that God had consistently required of me. I liked the notoriety that came my way when I would take a new or challenged program and pop it into the school's focus. Pretty soon, my 800+ seat auditorium was full to the brim and I was showcasing talent and then getting it off to college.
(I've always felt that high school should only be a launching pad to college. To my students that are struggling with that idea ...whatever. Get over yourselves, get away from your video games and go back to school. Don't be stupid. Shake off your natural man. You'll end up there eventually anyway. Might as well get it over with.)
I digress...as usual.
Working at Lehi was both a challenge and an obligation to my alma mater. I thought I would retire there. I built a house in Lehi. I had dogs. I was directing the community arts program as well. We won a lot of competitions and sent a lot of kids to college and pretty soon, the program was so big, that I had invested in a refrigerator, microwave and sleeping cot, just to save time. The district built a scene shop for me and a new classroom with it's own stage. I was bringing more money into the school than ALL of the sports programs combined. We did 30 fundraisers to take 40 kids to Scotland! We did New York regularly. We took State. The monster had become so huge...it was eating...M.E.
Because I was spending more time with the kids than their own mothers, the kids started treating me like their mother. It wasn't positive in any way. The expectation changed. Suddenly they knew more than I did. After seven years, there wasn't anywhere for me to grow. I was in a personal ditch. A hole. A dark hole. I was trying to feed my children from an empty bucket. The loneliness of going home to an empty bed was also eating my soul. I felt sure that God had directed me back here...and that He had abandoned me now because He wasn't worried about Lehi anymore. I stopped praying to Him. B.I.G. M.I.S.T.A.K.E.
I'm trying to dance a little around the real reasons so as not to offend, but in addition to being just plain tired all the time, I didn't like the way (some of) the kids were treating me. The director's gifts went away, the cards of "thanks for pouring your blood sweat and tears into me" went away. Not that you HAVE to have a gift at the end of a show, but it's just a symptom that they were taking you for granted. They knew you were a rock and would getting something out of the bucket no matter what. I had created an environment that plays were no longer special. They were just "to be gotten through" so you can put them on your resume...so you can get scholarships. Dump it out of the plate and serve it up.
Parents were wanting their child to be on my fast-track to scholarship nirvana, and instead of being the hero for turning a small program into a scholarship machine, they now scorned me for not casting their child in a leading role. Those memories were gone. I was the obstacle. The enemy. How could I not see that their child was Broadway bound? Working at Lehi had apparently made me blind and deaf. I could feel the wind changing.
Chim Chim-i-ney, Chim Chim-i-ney Chim Chim Che-roooooooo....
Good luck will rub off when I shake 'ands with you...
It was right about six and half years into my term at Lehi when Hyrum Smith (the founder of the Franklin Day Planner, and Tuacahn)'s sister, who lived in my mom's neighborhood, told him that he should see the plays at Lehi High..."they are like going to Broad-way." I saw him standing at the back of a rehearsal and I thought he was someones dad waiting for their kid. I had seen him at other rehearsals. This particular day he walked down the aisle and shook my hand. He said "I'm Hyrum Smith and I want you to come and work for me at Tuacahn." I heard a voice say, as clearly as ever, "you are not going to work at Lehi much longer." And I didn't.
Now as the ladder of life
'As been strung
You may think a sweep's
On the bottom most rung

Though I spends me time
In the ashes and soot
In this 'ole wide world 
There's no 'appier bloke
I bleed Purple. I will always be a Lehi High Pioneer. I will always cheer for the Purple and White. In fact, Andy went to American Fork High which is a neighboring town, and the two schools used to be great rivals. The American "Farkers" are "The Cavemen." I think that's just a ridiculous mascot. The Pioneers? Majestic! I tease him relentlessly, but he has the greatest comeback...."you're welcome for the wheel." And I can't deny his prehistoric contribution.
Without it, we'd still be in Missouri.
Lehi High School, Home of the Mighty Pioneers.
P.S. Fifth Grade Quiz:
1. Grandma's feather bed was soft as a _______ ________?
2. What was it made out of?
3. How many hound dogs did it hold?